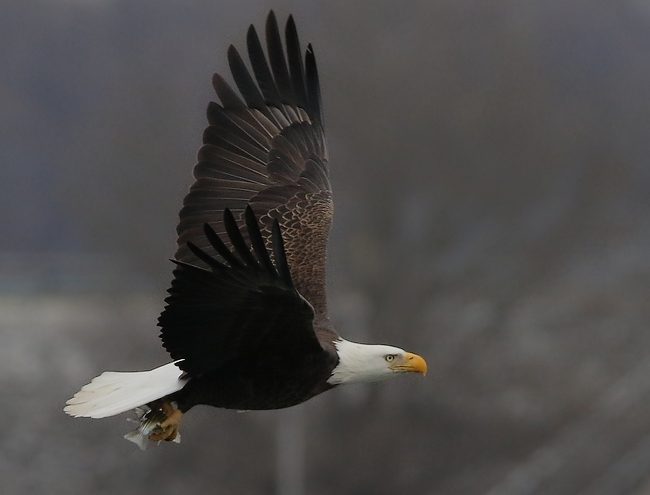 24 Jul

Eagle Watching Tours on Kentucky Lake

Kentucky Lake is the perfect location for bird watchers. Kentucky Lake has slowly become home to our nation's bird, the Bald Eagle. Winter is the perfect time to view these majestic creatures on Kentucky Lake!

With over 2,300 miles of undeveloped shoreline and an endless food supply, we have become prime real estate for these birds.  During the months of January and February, viewers can either book a boat tour, bus tour, or van tour through either our local state parks, KY Dam Village State Resort or Kenlake State Resort Park.

And, let's be clear about this boat tour, eager sightseers will not be freezing on a pontoon boat trying to spot these winter birds with a blind eye.  These boat tours take place upon luxurious yachts for viewing, along with wildlife experts who help you spot anywhere from 10 and 45 Eagles and other native wildlife.

Check their calendars and reserve your spot early for the January and February events on Kentucky Lake. There are also brunch tours you can take. Delicious food, gorgeous lake views, and Eagle watching, it's the makings of a great day!

Other regional Eagle viewing opportunities include boat and van tours hosted by Land Between the Lakes National Recreation Area, as well as another Eagle weekend at Lake Barkley State Resort Park.

Make Eagle watching a staple item in your winter routine on Kentucky Lake. These beautiful birds, once on the edge of extinction, are alive and thriving, thanks to the dedicated conservation work of both wildlife experts and citizen volunteers.

If you have any other questions about Kentucky Lake and planning your weekend getaway, give us a call at 800-467-7145!

Plan Your Winter Getaway!