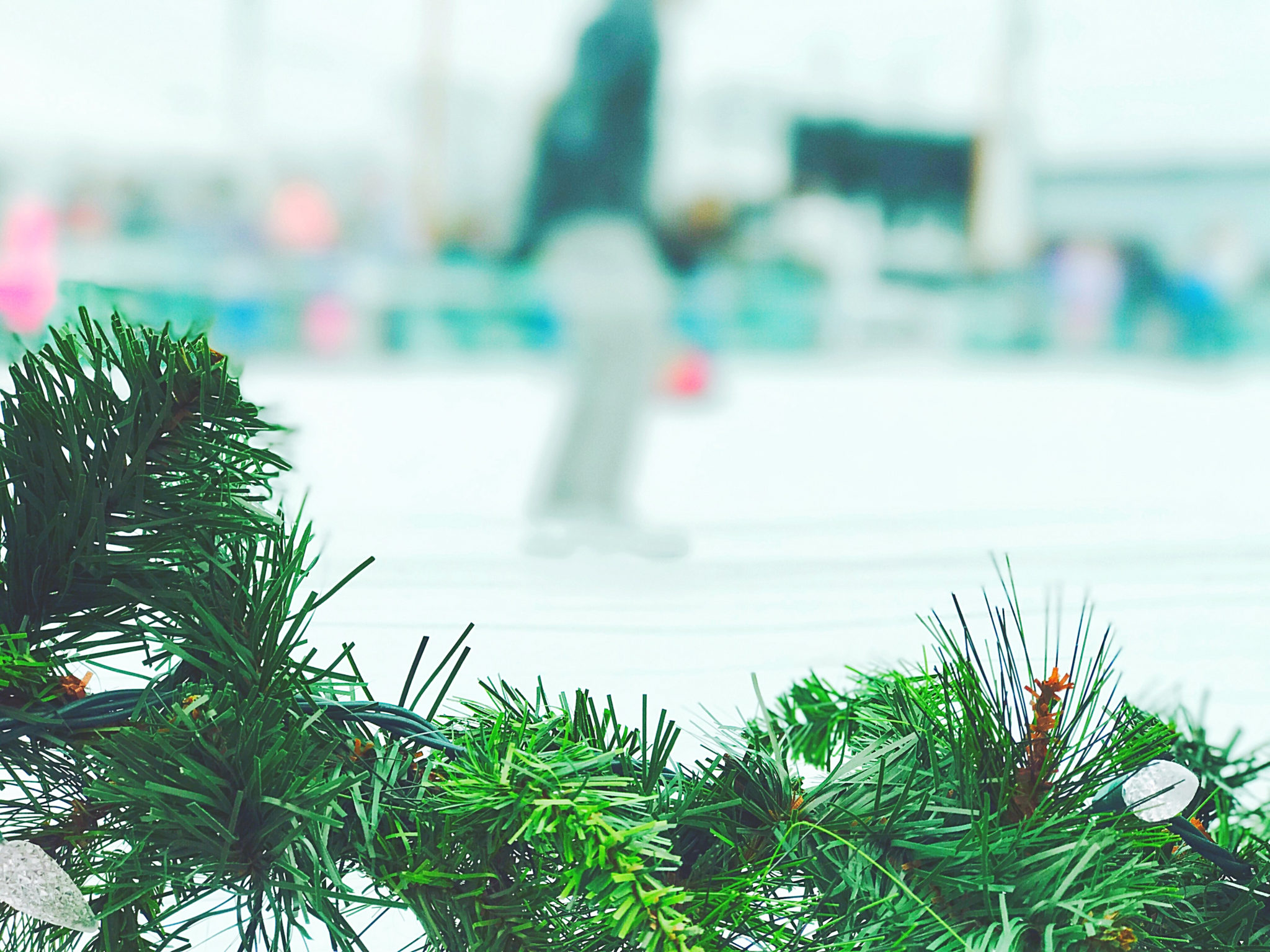 26 Nov

Christmas Time on Kentucky Lake

The leaves have turned and the marinas have closed up.  Boats have been winterized and our snowbirds are starting to head south for the winter.  But, for those of us still around for the holiday season, Kentucky Lake believe it or not, offers some really great events to get you and yours in the holiday spirit!  Check out these festive weekends!

Who doesn't love a good Christmas light display!?  Well, you're in luck because beginning November 29th through December 31st, Christmas in the Park at Mike Miller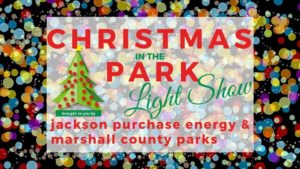 Park will be happening with thousands of Christmas lights and fun holiday scenery.  Christmas in the Park is brought to you by Jackson Purchase Energy Corporation and the Marshall County Parks System.  Lights will be lit from 5PM to 10PM each night.  Donations will be accepted for a variety of non-profit organizations within Marshall County.  Please show your support by either making a cash or credit donation when you visit!
The first full weekend in December is going to be a busy one for the Kentucky Lake area!  Between basketball, Christmas parades, ice-skating, and Christmas shopping, we have something for LITERALLY everyone! A long-standing tradition in Marshall County includes a basketball tournament showcase, HOOPFEST!  Even more exciting this year, is our very own 4-star point guard Zion Harmon will be leading the Marshals throughout the weekend.  Games will begin Thursday, December 5th at 4:00PM and continue throughout the weekend with the final game happening Sunday afternoon at 4:30PM.  For a complete schedule list, please visit their website by clicking HERE!  Watch teams from Kentucky, Arizona,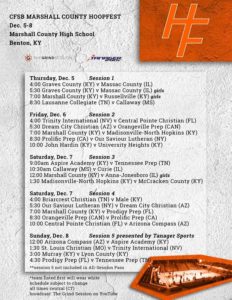 Florida, Missouri, and more!
If basketball isn't your thing, but the holidays are, then head over to Calvert City on December 6th and 7th!  This precious little community on the water has got a fantastic Christmas weekend planned!  Friday evening, December 6th, Calvert will be hosting their tree lighting celebration complete with vocal performances, ice-skating, and hot chocolate! Kick things off that morning enjoying breakfast with Santa or a brisk 5k run!  The program begins at 5:30PM with an address from Mayor Lynn Jones and the lighting of the Christmas tree, followed by performances from the Calvert Elementary students and the Marshall County Jazz band.  Ice-skating will last from 6PM to 9PM and there is a $3 admission to skate.  All proceeds from admission sales will be donated to the MC Needline.  Some of your favorite characters will also be there for pictures including Mickey and Minnie, Anna, Elsa, and Olaf!  To checkout their Facebook event, click HERE!
Saturday, December 7th is a whole new day and it's kicking off with a bang!  Enjoy a cheerful breakfast with Santa at Kentucky Dam Village State Resort Park from 8AM to 11AM.  Or, go for a run with him too!  Snap Fitness of Calvert and C.A.D.A. are teaming up to bring you the inaugural Jingle All the Way 5K & Fun Run!  It's a great reason to run for a cause as all the proceeds from this 5K will be donated the Calvert/Sharpe Family Resource Center to help supply families with all they need to have a wonderful Christmas season this year.  Registration starts at 7:00AM, the 5K will begin at 8:00AM, the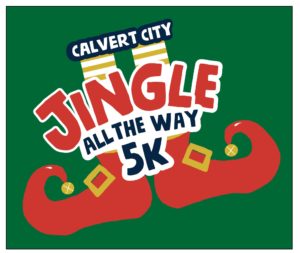 awards at 9:00AM, followed by a one mile Fun Run with Santa!  To save yourself some time, register now by clicking HERE!
Calvert City's Holiday Bazaar is happening Saturday as well and this thing is HUGE!! There are four locations, and over 100 vendors!  Shop between the Lakeland Event Center, Calvert City Elementary School, Calvert City Civic Center, and Calvert Methodist Church. Goodies will range between clothing, jewelry, accessories, homemade candles, soaps, and candies, hand-crafted items, home decor, and so much more!  The event lasts 9AM to 4PM with the chance to win door prizes too! More information on vendors can be found HERE! You can finish all your Christmas shopping in one day so do not waste this opportunity! Shop 'til you drop, but don't go to far because the Calvert City Lions Club will be hosting their annual lighted parade at 6PM down 5th street!  The theme this year is, "The magic of Christmas" and kids will have the opportunity to visit with Santa following the parade!
Happening throughout the same weekend is "A walk through Bethlehem" at Zion's Cause Baptist Church on HWY 68W.  The live nativity scene takes place between 6:00 and 8:00PM each night.  Admission is free and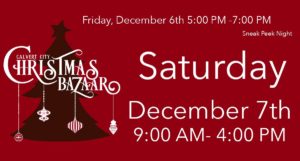 groups are welcome!  Come stroll Bethlehem during one of the most special times of the year and celebrate Jesus' birth for He is the reason for the season!
The following weekend gear up for round two of holiday celebrations and events!  Saturday, December 14th, join Santa that morning for breakfast at Kenlake State Resort Park and stop by one of the many booths at the Christmas Bazaar.  This bazaar is coordinated by the WACPAC ladies of the Aurora community!  It's a great chance to buy local items, shop anytime between 8AM and 3PM.
December 14th also signals the day of the Dickens' Christmas Festival & Lighted Parade in Benton, Kentucky.  This festival is coming into it's 12th year and never disappoints!  This year's festival comes with ice-skating, carriage rides, Christmas Characters, craft stations, and as always the famous Dickens Alley with sweets and yummy food samples.  Ice-skating will last from 2PM to 6PM and is brought to you by Benton Electric/TVA, CFSB, and the Marshall County A&I Fair Board.  Thanks to their generosity, skating will be FREE to everyone!  Filbeck & Cann will be offering free carriage rides from 2 to 5PM and kids are welcome to make crafts and visit with Santa, Elsa, Anna, Olaf, Christof, the Grinch, Scrooge, and more!  The lighted Christmas Parade up Main street will start at 6PM and the theme this year is "Show us your Christmas Spirit!"  For more information on the Dickens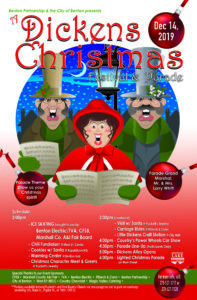 Christmas festival, visit the Benton Partnership Facebook page!
Finally, finish out the holiday season with some of the best entertainers in the region! The Marshall County Arts Commission is bringing you a New Year's Extravaganza that you do not want to miss!  Happening at the Kentucky Dam Village Convention Center, ring in the new year at this fundraising event!  Dance the night away with Todd Hill and his orchestra!  Tickets are $50 per person or book a table with select seating for $500!  For more information, on this event, visit the Marshall County Arts Commission website.
Kenlake State Resort Park will also be hosting "Pick Your Party" New Years Eve Bash! There will be two great band options, either Blues or Rock-N-Roll, food, beverage, and accommodations!  Packages start at $219.95 per couple!  Kenlake will supply non-alcoholic drinks and mixers, hats & horns, chips & dip.  Start the afternoon
with a FAREWELL to 2019 HAPPY HOUR in the Aurora Landing Restaurant 1 P.M-4 P.M.
Appetizers & adult beverages available for purchase (not included in the package).
Package price does not include tax & resort fee. NO dance-only tickets available.
Overnight package only. Dinner buffet open to the public 5-8 p.m.  Finish out 2019 dancing the night away!  For more information, please call the park at 270-474-2211.
We may be a summer destination, but in the off season that's when our local community shines the brightest!  We are worth a weekend visit during every holiday season and the Christmas season is no different!  So pick your cheer, book your room, and we'll see you on the rink, on the court, or at the parade!  On behalf of the Kentucky Lake CVB, we would like to wish all of our Kentucky Lake and Marshall County friends and joyous holiday season and wonderful new year!
Elena Blevins