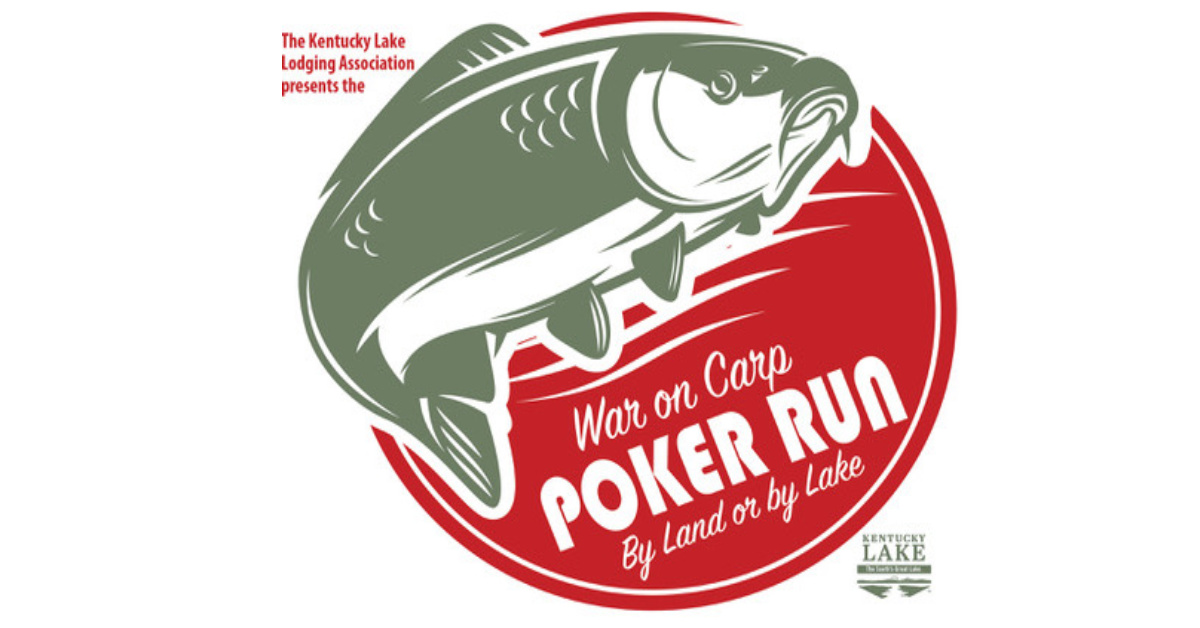 28 May

War on Carp POKER RUN Instructions

The War on Carp leisure Poker Run is happening THIS Saturday, June 1st!  Tickets are still on sale and this post is to meant to answer any questions you may have about the poker and best practices for participating in the event.  This event is coordinated by the Kentucky Lake Vacationland/Lodging Association with the help of the Kentucky Lake Convention & Visitors Bureau.  For details on the event including sponsors and door prize information, visit our Facebook page at Kentucky Lake/Marshall County Tourism.  All the proceeds raised from the poker run fundraiser will go towards offsetting expenses for commercial fishermen who are currently fishing for Asian Carp on Kentucky and Barkley Lakes.  We would like to thank our sponsors and list them on here as well:

Our Marina Sponsors & card stops: Whispering Oaks Resort & Marina, Bee Spring Campground, Eddy Creek Marina, Kentucky Dam Marina, Buzzard Rock Marina, Prizer Point Resort & Marina, Malcolm Creek Resort & Marina, Big Bear Resort & Marina, King Creek Resort & Marina, Moors Resort & Marina, Green Turtle Bay, and Kuttawa Harbor Marina

Our additional sponsors include: Crossroads Lawn & Garden, Donley's Marine, Marshall County Battery and Golf Carts, Kentucky Lake Inn, Kuttawa Tourism Commission, Days Inn, Legacy Marine, Nesbitt's Docks, Early American Motel, Jay's Electric, Benton Hardware, HiTec Outdoors, Fast Eddie's Bait & Tackle, Kentucky Lake CVB, Lake Barkley Tourist Commission, Cadiz/Trigg County Tourist Commission, and Jet-A-Marine!

So…how exactly does one do this whole poker run thing???
Each person playing must have their own ticket, so the first thing you need to do is go ahead and purchase your ticket for $20 (cash or check only) at one of these locations:
-Prizer Point Resort
1777 Prizer Point Rd. Cadiz, KY (270)522-3762
-Eddy Creek Marina
7612 KY-93 Eddyville, KY (270)388-2271
-Bee Spring Campground
573 Bee Spring Rd. Benton, KY (270)252-6200
-Early American Motel
16749 US 68E Aurora, KY (270)474-2000
-Kentucky Lake CVB
93 Carroll Rd. Benton, KY (Draffenville) (270)527-3128
-Big Bear Resort
30 Big Bear Rd. Benton, KY (270)354-6414
-Malcolm Creek Resort & Marina
325 Guthrie Rd. Benton, KY (270)354-6496
-Hu-B's/Kuttawa Harbor
1709 Lake Barkley Dr. Kuttawa, KY (270)388-9563
-Whispering Oaks Resort
267 Millers Rd, Benton, KY (270)354-6628
-Moors Resort
570 Moors Rd. Gilbertsville, KY (270)362-8361
The poker run begins as marinas open for the day, so do your research ahead of time and get opening hours for each of the 12 stops.
Once you have the opening hours of each marina, map out your route. REMEMBER, this poker run can be completed by boat or land or combination of the two!  You can stop at as few or as many marinas as you wish, but the more stamps you get, the more cards you get to make the best possible hand you can.
During the actual event, for every stop you make, take your ticket inside to get the back stamped by that participating marina.  For every stamp you get from the different marinas, determines how many cards you will receive at the final stop which is Moors Resort.
Be sure to be at MOORS RESORT MARINA by 4:00PM.  At this time, you will get in line to turn in your stamped ticket and receive your hand from one of our dealers.  In order to purchase a "mulligan" for an additional $10.00, you must have visited at least 5 marinas beforehand.
Sit back and wait to see how your hand measures up, best hand wins!
-Prize Payouts are as follows: Best hand pays out $1,000; 2nd best hand pays out $500; 3rd best hand, $300; 4th & 5th best, $100 each.
FAQs:
Does each person have to a ticket?
-The simple answer is YES. If you would like to be eligible for the cash prizes, you will need your own ticket.
What happens if there is a tie?
-In the event of a tie, the individuals will either have the choice to split the prize 50/50 or do a blind draw in which the highest card picked wins.
What happens if I do not make it to Moors Resort by 4PM?
-Unfortunately, your ticket will become void and you will be disqualified from the game.
Do we have to participate with a boat?
-Nope! This poker run can be done by boat or car or motorbike or bicycle… any golf carts or UTV's must be street legal.
Is there anything else I could possibly win?
-YES! We will have a raffle for a leaf blower donated by Seaford Lawn Equipment, a 50/50 raffle split, and a variety of door prizes donated by our other sponsors!  Every ticket purchased will be eligible to win one of the door prizes!
If we still weren't able to answer your questions with this post, please call the Kentucky Lake CVB office between 8:30 and 4:30PM.  Their number is 270-527-3128.  We look forward to seeing everyone on this Saturday!