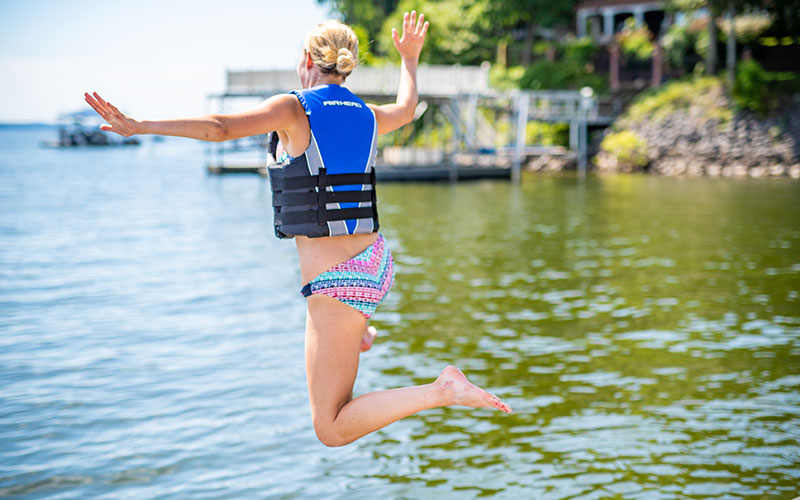 06 May

Top 10 Kentucky Lake Weekends

With the entire summer ahead of us, it's sometimes hard to decide where to go and what weekends might be the best weekends to visit. So…we have made it easy for you!  Check out our top 10 BEST weekends to visit Kentucky Lake and the Land Between the Lakes National Recreation Area! 

Weekend #1: Hobie Bass Open, May 17th – 19th

This tournament happens all over the lake with headquarters stationed at Kentucky Dam Village State Resort Park.  This tournament is open to all kayak anglers and utilizes a catch and release format.  Once anglers bag a fish, they measure it by inches, take a photo which is time-stamped, and upload it to the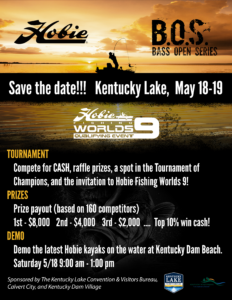 iAngler app which keeps a live tally. You will be competing for CASH money (the top 10% receive payouts), raffle prizes, a spot in the Tournament of Champions, and an invitation to the Hobie Fishing Worlds 9! Hobie kayak demos will be OPEN and FREE to the public on Saturday (5/18) from 9:00AM to 1:00PM and the Kentucky Dam beach area.
Weekend #2: Memorial Day Weekend Festivities, May 25th – 27th
Memorial Day Weekend is the kick off to summer for many folks who visit Kentucky Lake!  It's a long weekend to get away with friends and family, enjoy a boat cruise or maybe just some "front-porch sittin." It is THE weekend to grill out and Kentucky Lake offers some pretty great accommodations to do it all!  From campsites, to cottages, private homes, or maybe just a room for two, we can fit your needs!  Also happening this weekend is the Memorial Day Arts & Crafts Festival at Kentucky Dam Village State Resort Park.  Take some time out of the weekend to browse vendors for special treats and hand-crafted goods from all over the region.  So come kick off summer with us at Kentucky Lake, a crowd favorite weekend for those who need to get  away!
Weekend #3: "Feelin Lucky Weekend," June 1st & 2nd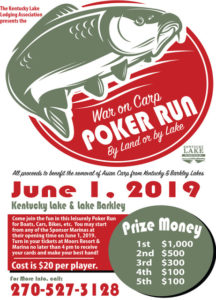 You may just want to turn around and come on back after Memorial Day, because the following weekend of June 1st/2nd is set to be one of the busiest and best weekends of the summer!  First of all, it's FREE FISHING weekend across the entire state of Kentucky, so if you're looking for a good weekend to come fish, why not do it on a FREE weekend!  Secondly, it's the start of DRAG BOAT Racing! The Kentucky Drag Boat Association will be hosting their first of two drag boat races in Pisgah Bay.  You can view the races by boat or land. Check their website for more details on race times.  If racing isn't your thing, how about a more leisure boat ride while participating in the "War on Carp" POKER RUN Fundraiser!  That's right, we are bringing back the poker run and we need you!  Ticket's are $20 dollars and my goodness have the Marinas jumped on board with this!  We have 12 (yes, TWELVE) marinas participating this year.  The poker run takes off that morning as soon as marinas open, but be sure to return to Moors Resort & Marina by 4 o'clock to try your luck at a hand!  The best hand takes home $1,000 and then we are paying down to 5th place!  If you don't have a boat, this poker run can be completed on car or bike too! Afterwards, head on over to the Benton court square for their annual Benton Cruise In series!  The Cruise In starts at 4 PM and runs till 7 PM! There will be live music, great door prizes, a 50/50 raffle, food vendors, kids activities, and quite honestly, just a great time! But wait, that's not all!  If you really feel like going for broke, head on over to the Paducah Expo Center for Pa-BREW-cah, a fundraiser event for the Paducah Symphony Orchestra.  Enjoy craft beer from all over and live music until 10PM!  With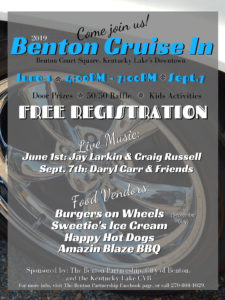 this kind of weekend, we feel it is important to mention to BE RESPONSIBLE, don't Drink and Drive, whether you're on the water or in a car, and always have a designated driver!
Weekend #4: 400 Mile Yard Sale, June 6th – 9th
Each year our primary lake access road, Highway 68/80, turns into one of the nations longest yard sale festivals, called the 400 mile yard sale!  This year marks it's 15th year and it seems to grow every year!  People travel from all across the country to attend this sale hoping to find a variety of unique treasures! So while this event isn't geared toward your normal lake goers, it still isn't a bad weekend to stuff some extra cash in your pocket and come on over to the lake for some bargains!  And here's a fun twist to try… turn it into a friendly game of Yard Sale Scavenger Hunt. Best bargains win!
Weekend #5: Heroes and Fireworks, June 29th
The end of June is the is always a fun time of the year.  The weather is hot, and less stormy so it's a little easier to plan ahead.  Kentucky Lake's downtown area of Benton will be hosting a new event this year called Hero Fest, a family friendly event with appearances by some of your favorite superheroes as well as some of our local ones too!  The event will have kid friendly crafts, inflatables, face-painting, a really fun local Hero exam, a superhero themed Enduro Race and top it off with a superhero movie!  All of this will be taking place at HH Lovett Park from 4PM to 10PM.  If you don't want to stick around for the movie, you can also head on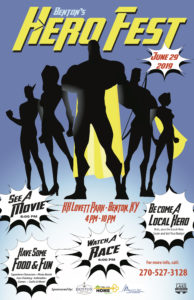 over to Kentucky Dam Marina for their Fireworks celebration to kick off 4th of July week!
Weekend #6: Independence Day or Week, July 3rd – 6th
This is quite possibly the most popular weekend to visit Kentucky Lake out of the entire year!  Resorts are bustling with guests and marinas are packed with lake goers.  There are a couple of specific dates during this week however, to maximize your 4th of July celebrations.  First, July 3rd is the Kentucky Lake Big Bang!  This is the biggest fireworks display on the water and is brought to you by Moors Resort & Marina. If you can't make it out to Moors however, Majestic Pizza & Buffet Restaurant also hosts a fireworks show which can be seen from their parking lot! Fireworks usually always start dusk!  Secondly, if you're not going to be on the water on the 4th, head on over to Calvert City for the Ameribration Celebration.  A day filled with activities and vendors alike. You can participate in things like a corn hole tournament, disc golf, the kid parade, enjoy to live music and FREE watermelon, and it all ends with fireworks.  You will want to head to Memorial Park in Calvert City for all the action!  Other fireworks displays on the 4th include Bee Spring Campground (which can be seen by boat or land).  Finishing out the weekend, fireworks can been viewed at Kenlake Marina and Eddy Creek Marina on the 6th along with the final drag boat race of the season.
Weekend #7: Hummingbird Festival in Land Between the Lakes, Aug. 3rd
The great hummingbird migration begins this weekend and Land Between the Lakes is a VERY popular stop for these tiny friends of ours!  You can see as many as 200 hummingbirds in one day during this time period.  Land Between the Lakes does a great job spotlighting these birds during the month of August with a photo contest, festival, and variety of kid centered educational programs.  It's a great weekend to come with the kids, one last hooray before school starts back!  Rent a cottage, spend a day on the water, and then a day at the hummingbird festival, then back on home! It's a perfect budget friendly weekend parents or grandparents traveling with younger children!
Weekend #8: Hot August Blues, August 22 – 24
While everyone loves good music, this particular weekend on Kentucky Lake was made for the Blues lovers.  Kenlake's Hot August Blues Music festival happens at the amphitheater at Kenlake State Resort Park.  It's 3 days of blues, mixed with a little rock and maybe even a little jazz.  The 2019 performers include: Blues JAM! Hosted by Adam & The H Bombs and 2 Years Wasted, John Sutton band, Alonzo Pennington with the Xtraordinary Gentlemen, Jonathon Long, Nightfish, Gough-Martin Blues Band, The Beat Daddys, Boscoe France, Big Al & The Heavyweights, The Memphis All Stars, Reba Russell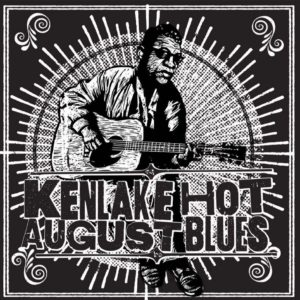 Band, Joanna Connor, and more!  Tickets are on sale now! For a limited time only, 2-day passes for Friday and Saturday are only $25!  Ticket price at the gate will be $40, so get your tickets now!  Click here for more details!
Weekend #9: Labor Day Weekend, August 31 – Sept. 2
It's the final act of the season, before school, sporting events, and the holidays, so do not pass up this opportunity to unplug for one last weekend.  Lately, it's been unseasonably warm during this time, but cooling off at night, making it some of the most perfect camping weather in particular!  You can still enjoy activities on the water or in Land Between the Lakes such hiking, picnicking, horseback riding even! Then enjoy evenings by sitting around campfires, playing board games, or sipping on that Kentucky liquid gold we call Bourbon!
Weekend #10: It might sound cliche, but…how about any weekend!
That's right, any weekend may be the perfect weekend for you to visit Kentucky Lake!  If crowds aren't your thing, try a weekend like June 15th (a fathers day trip sounds fun right?!) or July 13th, when all the holiday traffic has gone and you can become just one of the locals!  Kentucky Lake offers a perfect setting to disconnect from everyday life, and reconnect with those who matter most, friends and family.  We create opportunities for quality time which is hard to come by these days, and we can do it at a great price too!  So whether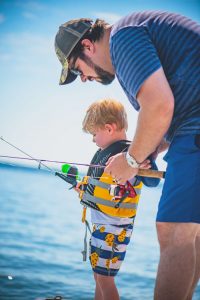 you're a young family or newly retired, whether you're looking to travel with a group of friends or just that special someone, consider trying us on for the weekend, we've lots of great ones to choose from!  
For a list of places to stay, click here!  
For a list of local attractions and activities, click here! 
For our complete events list, click here!
For a some pre-planned itineraries, click here!