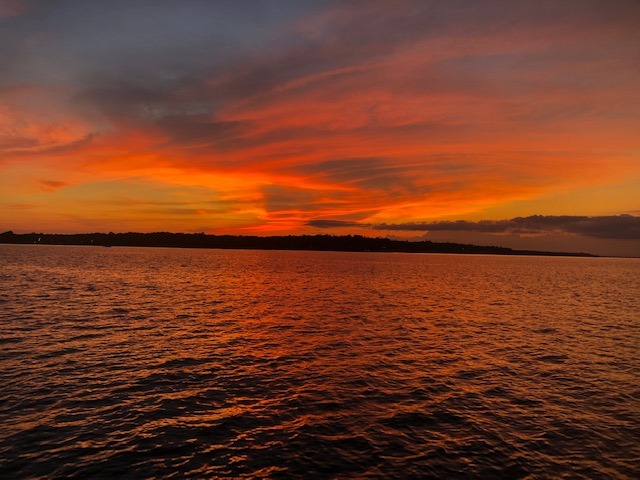 21 Aug

TOP TEN FALL WEEKENDS ON KENTUCKY LAKE

We're back! Our top 10 summer weekend list has been one of our most visited web pages on visitkylake.com, so we are coming back with a new list and new season!  While some of the general activities may seem the same, doing them in a different season can bring an entirely new experience with it! Check out our top 10 list of the best weekends to visit Kentucky Lake for fall events and activities!

10.
Okay, so technically this event is still happening in summer, but it definitely solidifies it's spot on our list because of its tradition and exceptional talent!  THIS weekend kicks off the 30th anniversary of Kenlake's Hot August Blues Festival! This festival happens at the end of August come rain or come shine. One interesting aspect of this music festival is that it can be heard on land at Kenlake State Resort Park's amphitheater or by water! A FREE concert kicks off the celebration on Thursday night at the hotel featuring 2 Years Wasted and Adam and the H Bombs. On Friday, the gates open at 3PM with a great starting line-up!  Saturday, the gates open at 10:00AM with an even more stellar line-up! The show will begin at 11:15AM and lasts all day! For more information on the music acts, where tickets can be purchased, and sponsor information, visit their website at www.kenlakeblues.com!  Visit our lodging page for all your possible accommodations!

9.
If this weekend is a little short notice for a getaway have no fear!  Labor Day weekend and the end of summer blow out is happening the following weekend, August 31st through September 2nd.  There is still plenty of lodging available, check out your options here!  The Labor Day Arts & Crafts Festival will be happening in Grand Rivers.  For for more information on the festival, visit their website, https://grandriversarts.com.  Kentucky Dam Village State Resort Park along with Kentucky Dam Marina will also be hosting a fun concert with the group Cantageus on Saturday, August 31st!  The concert will take place from 6:30PM to 9PM with the fireworks to follow presented by Kentucky Dam Marina. Visit their Facebook page for more details on times and best place to see the fireworks!

8.
The month of September brings two different opportunities for car lovers! The final Benton Cruise In of the season happens on the court square of Kentucky Lake's downtown in Benton, Kentucky on 9/7/19.  Check out several of the local boutiques and restaurants in Benton before the square shuts down for the Cruise at 4PM!  Live music by local talent Darryl Carr will be there along with some great food vendors!  If you

can't make it on the 7th, our area boasts another great car show at the end of September, the Kenlake Car Cruise! This show takes place September 28th from 10AM to3PM at Kenlake State Resort Park in Aurora, Kentucky! With a beautiful setting and indoor space to remain cool, attendees can be sure to have a great time!  Door prizes, live music by Kalib Swift, food vendors, and much more await you and your family on September 28th!

7.
The first official day of fall is September 23rd and we have a great family friendly festival happening at Mike Miller Park in Draffenville that weekend.  The WHO Festival & Family Day on September 21st is a FREE event geared towards outdoor recreation, education, and fun!  Kids can try a variety of activities including archery, kayaking, educational booths, a fishing derby, or even a live animal calling contest just to name a few.  The event features food & craft vendors, inflatable bounce houses, a pumpkin patch along with pumpkin painting, and a live music concert.  There is so much going on during that time, you have no reason not to come!  September is family month for our county so throughout the entire month, there are a number of family activities you can participate in including library nights, family fishing night, drive in movie night, etc.  For more information, click here!

6.
Sew much fabric, and sew little time! The American Quilt Society will be hosting their fall show in Paducah, Kentucky, September 11th – 14th.  During this time, thousands of quilting enthusiasts gather to appreciate the extraordinary work of quilters, to shop a variety of vendors, and maybe even learn a thing or two!  Quilt week is special time for our region and our area along Kentucky Lake offers some of the more beautiful landscapes and backdrops for quilting parties or maybe a little relaxation after a busy day at the show.  Check out some of our private home listings here, or maybe just a room will do! We look forward to seeing you all in September!

5.
Can you smell it?!?! The plumes of smoke from smokers is thick and now your mouth is watering.  BBQ on the River is a staple item throughout the entire Western Kentucky region.  Make plans to stay at the lake, but head on over to downtown Paducah, where the streets come alive with hundreds of BBQ vendors, craft vendors, beer gardens, live music, and more! If you crave fried Oreos, turkey legs, bbq nachos, funnel cakes, ribs, this BBQ Festival HAS IT ALL! And the best part is, a majority of the proceeds from food sales go to local charities!  Who can resist BBQ with a heart!

4.
The month of October means fall break for lots of families across the Midwest.  If you can't afford the time or money to spend an entire week away, Kentucky Lake offers a great weekend option for families of all ages!  October 5th, Calvert City will be hosting its second annual Fall, food, and Fun Fest at Memorial Park, complete with all things fall such as pumpkin picking, apple cider, live music, and a variety of craft vendors. Fall break is also about relaxation with a mini adventure here or there. Be sure to check out Land Between the Lakes; especially their hiking and biking trails for colorful nature walks, or the nature station and Homeplace for fun educational programs.  Finish the night with s'mores by a campfire or maybe even a drive in movie!

3.
Grand Rivers may be home to the famous Patti's Settlement Restaurant, but it's also the place for the Hunters Moon Festival on October 12th!  The annual Hunters Moon Festival will be held on the second Saturday of October. This is one of the areas best fall festivals with vendors, games, kid & family activities, street dance, and the big parade! Don't miss this annual small town festival!  For more information, call Grand Rivers tourism commission at (270) 362–0152.

2.
Annually, the Aurora Country Festival always happens the third weekend in October. This long-standing festival takes place in the Aurora Community Park and has been deemed the area's largest open air flea market.  Come peruse through vendor booths for long lost memories or a trinket of all sorts.  Enjoy some food in the local area as well!  Live entertainment and a parade complete the festival on Saturday morning!

1.
We know Halloween is normally a holiday spent at home, but maybe consider shaking it up a little and try Halloween at Kentucky Lake! 

Several of our local resorts, campgrounds, and churches host trunk or treat events that are FREE and open to the public!  October is ta great month for camping, so deck out the camper in cobwebs and head on over.  October 25th and October 26th will be especially exciting Halloween nights in our area with a Spookie Moovie Night in the park at HH Lovett Park on the 10/25 or check out the Boo Bash at Mike Miller Park on 10/26 starting at 5PM followed by a Demolition Derby!

So there ya go! There several opportunities over the next two months to schedule your visit to Kentucky Lake!  These events are just the ones we know about!  There may be plenty more for you to discover!  We didn't even begin to touch fall fishing trends, upcoming hunting seasons, Jeep or ATV riding over a Turkey Bay in Land Between the Lakes, or our progressive dinner food tour idea! Be on the lookout for those blogs in September! Give us a call today, 800-467-7145, to request your FREE Travel guide to begin planning your fall trip to Kentucky Lake!