You don't need to go all the way to Florida...
Enjoy a day in the sun, swimming on Kentucky Lake!  There's nothing like relaxing on a beach, hearing the lake's gentle waves lap against the shore.  Not to mention the whole family will love being on the beach, whether you're swimming, laying out or playing sand volleyball.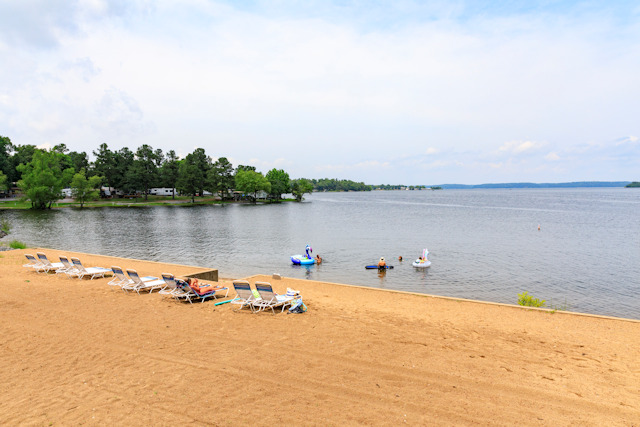 Beaches at Kentucky Dam Village State Park
Kentucky Dam Village State Park
has sandy beaches open seasonally from 10am-7pm with beach volleyball courts and pavilions available. It's free and open to the public, but there are no lifeguards on duty.
Beaches at Land Between The Lakes
One of the most popular beaches is Moss Creek Day Use Area open usually from April 1 to October 31.  This is a pebble beach and you are encouraged to check LBL's website for specific details on seasonal dates and closures. It's free and open to the public.
Another popular hangout is known as The Sands , a natural sandy beach near Birmingham Ferry Campground.  It's typically only accessible by boat, however.
Lake access areas in Land Between The Lakes also provide an easy way to get to the shoreline.  All access areas are free of charge unless you plan to camp overnight.
LBL Lake Access Areas North of Golden Pond Visitor Center:
Sugar Bay Backcountry Area
Taylor Bay Backcountry Area
Birmingham Ferry Backcountry Area
Smith Bay Backcountry Area
Pisgah Point Backcountry Area
Demumbers Bay Backcountry Area
Twin Lakes Backcountry Area
Moss Creek Day Use Area 
Nickell Branch Backcountry Area
Devil's Elbow Day Use Area
LBL Access Areas South of Golden Pond:
Redd Hollow Backcountry Area
Neville Bay Backcountry Area
Ginger Bay Backcountry Area
Gatlin Point near ramp on Barkley
Beaches at Lakefront Resorts
Many lakefront resorts have private beaches for overnight guests. 
Please keep in mind none of these beaches have lifeguards, so children should not be left unsupervised. You swim on the lake at your own risk.